Men.com exclusive Johnny Rapid started his porn career at 19. Identifying as straight, it wasn't until after the first time he got fucked he started to love bottoming. With his deep soulful brown eyes and brown hair and boyish looks, one would think he's a pushover.
Here are some of the most popular scenes he's done. He's a determined young man who likes aquariums (he has 12!), working on cars and just about anything outdoors. His softer side is reached through small and thoughtful gifts or words. He admits that his anger can be the worst thing about him. At this point he's made well over 100 scenes with Men.com and shows no signs of stopping.
Let's take a look at some of my favorite Johnny Rapid scenes: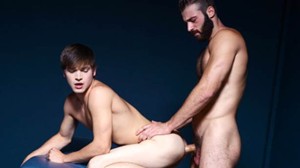 <<Here is Johnny Rapid getting fucked by Men.com newcomer Jarec Wentworth.
And then, in the 1000th scene for Men.com Johnny was fucked by Rafael Alencar and his 11 1/2″ dick!
The guy can take cock.  He was awesome  getting plugged by hairy daddy Brad Kalvo.
And of course he's done many an orgy scene, including  Happy Hour, Houseboy Part 3, There's Something About Johnny Part 5 …and well I could go on.
When not in front of the camera, Johnny Rapid has been the subject of lots of buzz about whether he is straight or gay, and matters that extend beyond his hot body and cute little ass.   Rarely does a performer grab attention so quickly, but this guy had the look and charisma to do just that and it doesn't look like he's going anywhere
You can alway check out his Men.com page to get an idea of the vast career that he's had in just a few short years or check my JOHNNY RAPID ARCHIVE here at MarcDylan.com to see all my favorite posts of his.